Peppa Pig's Big Splash West End schedule has been announced – it's the latest in the Peppa stage shows – we saw last years Treasure Hunt show which was brilliant fun!
The Peppa Pig's Big Splash West End dates run from the 5th December to 5th January 2014, and is Peppa's third and longest tour. It is covering a massive 47 weeks and heading to over 80 theatres, with the biggest advance of over £1 million to date on tour opening, and her fourth consecutive West End Christmas season.
The nursery roof is leaking and Peppa and her friends need to fix it quickly. They set up a fete to raise the money for Mr Bull to do the repairs. There's plenty of fun to be had as Peppa, George, Mummy and Daddy Pig, as well as Danny Dog, Pedro Pony and Suzy Sheep put up bunting, run stalls and organise a great day out.  There's also a Champion Puddle Jumping competition judged by Mr Potato where everyone gets wet and Peppa needs to find her Golden Boots. Another all-singing, all-dancing adventure full of songs, games and muddy puddles is guaranteed for all the family!
Peppa Pig and other characters are performed on stage with puppets and brilliant sing-a-long songs from BAFTA award-winning composer Mani Svavarsson. Richard Lewis adapts and directs this brand new show, following his previous successes with the first two Peppa Pig stage shows and the recent Ben & Holly's Little Kingdom tour. Matt Lewis is lyricist, Simon Scullion is designer, Matt Haskins is lighting designer, Ian Horrocks Taylor is sound designer and Andy Booth is music director.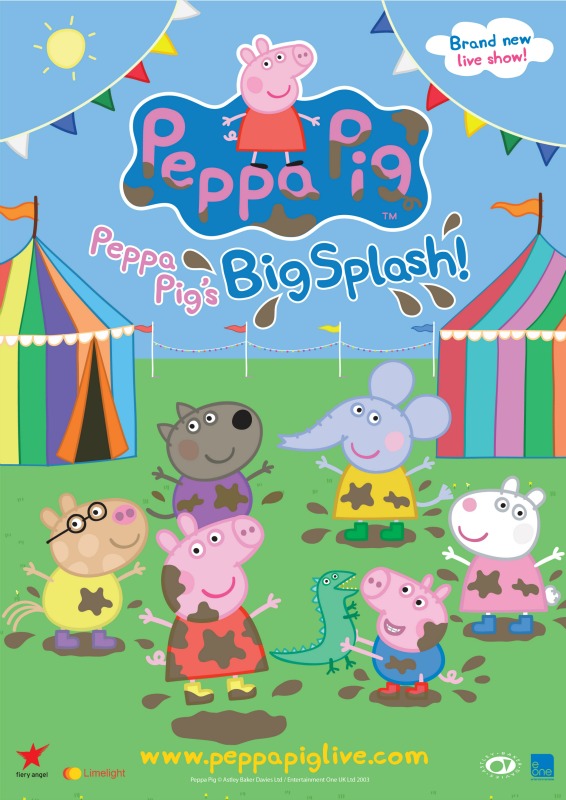 PEPPA PIG'S BIG SPLASH WEST END CHRISTMAS SEASON 2013 – 2014
CRITERION THEATRE
Piccadilly Circus, London W1V 9LB
THURS 5 DECEMBER – SUNDAY 5 JANUARY
www.peppapiglive.com
BOX OFFICE: 0844 847 1778
PLEASE NOTE: Babies, 0 – 12 months of age, at the date of performance (not at the date of booking) are admitted free of charge if they are sitting on an adult's lap. If a seat is required for a baby, it must be bought at the child rate. All children from 1 years upward must have a ticket.
THURS 5 – SUN 8 DECEMBER
Thurs 5 & Fri 6 at 11 am & 2.30 pm
Sat 7 at 11 am
Sun 8 at 12 pm & 3 pm
MON 9 – SUN 15 DECEMBER
No performances on Mon 9 & Wed 11
Tues 10, Thurs 12 & Fri 13 at 11 am & 2.30 pm
Sat 14 at 11 am
Sun 15 at 12 noon & 3 pm
MON 16 – SUN 22 DECEMBER
No performances on Mon 16 & Wed 18
Tues 17, Thurs 19 & Fri 20 at 11 am & 2.30 pm
Sat 21 at 11 am
Sun 22 at 12 pm & 3 pm
MON 23 – SUN 29 DECEMBER
No performances on Wed 25 & Thurs 26
Mon 23 & Fri 27 at 11 am & 2.30 pm
Tues 24 & Sat 28 at 11 am
Sun 29 at 12 pm & 3 pm
MON 30 DECEMBER – SUN 5 JANUARY
Mon 30, Tues 31 & Fri 3 at 11 am & 2.30 pm
Wed 1 & Sun 5 at 12 noon & 3 pm
Thurs 2 & Sat 4 at 11 am