Two weeks ago we were invited along to Petts Wood FC for an hour-long training session with Casey Stoney, the England and Arsenal Ladies footballer, to celebrate the launch of McDonald's Football Mum of the Year.
Football Mum of the Year is an award to celebrate us mum's who make football happen – and the launch we attended involved H and the other kids having a training session with Casey Stoney – a nice simple training session too. The children had to imagine they were on a pirate ship and complete a few tasks – from kicking the ball from one side to the other, and chasing the ball as Casey rolled it down the pitch, or just running as quick as they could to Casey to give her a high five. You don't need a field to do these exercises, you can do them at home too – all you need is a brick wall (for kicking balls against) and you're set! (preferably outdoors)

I've already done a quick writeup about how the experience has changed H – how something plugged in with her again and her love of playing football reappeared. The last two weeks have been quite remarkable. She is now playing football with Carshalton Athletic every Saturday we can make it, and is really enjoying playing again. I'm a Football Mum again! I get H's clothes ready, I wash them, I do her hair, I make sure her shinpads are clean and I make a mental note I need to get her new tracksuit bottoms and socks because she has grown. Again. I make sure her footwear is the right kind and fits. Oh, and pack a fleece in case it's windy, and be at the side ready for a quick hug if she falls over and feels sad.
Do you know a football mum? It doesn't have to be someone who takes their child to football – what about the mums who make sure everything is ready to make it happen for their child? Or someone who helps a club exist maybe? Or even does fundraising. If you know someone, then why not nominate them for the Football Mum of the Year Awards? The winner will be presented with their award on the 2nd September at Wembley! You just need to vote here.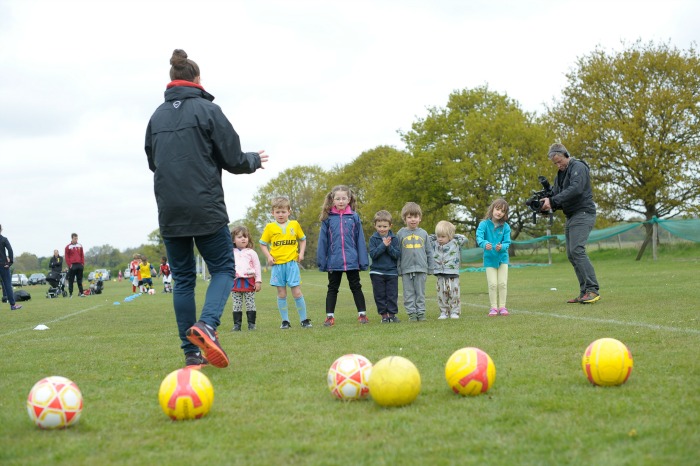 I grew up watching York City in my teens, and before H was born we went to Tottenham games as often as we could. My dream is to take H to games and her to enjoy them as much as we did. When Shaun first arrived in the UK from Australia, football had to be his sport – even if he resisted supporting my two teams to start with! So poor old H has no choice, but fortunately she seems happy with the teams she has (thank you Harry Kane, five year olds like players who score lots of goals).
We've bought tickets for the Women's FA Cup Final on the 1st August this year, to take H to Wembley for the first time (she missed the England v Germany game due to being ill) and I know she'll enjoy it, watching her first big game as a neutral. Let's not forget the Women's World Cup this summer too – Casey Stoney has been selected for the team as well, so H has been really proud she might see someone she's met playing football on tv soon!
Also, I've never played a game of football in my life. But that doesn't stop me supporting my daughter and making it happen. If you know someone else that does that, get nominating!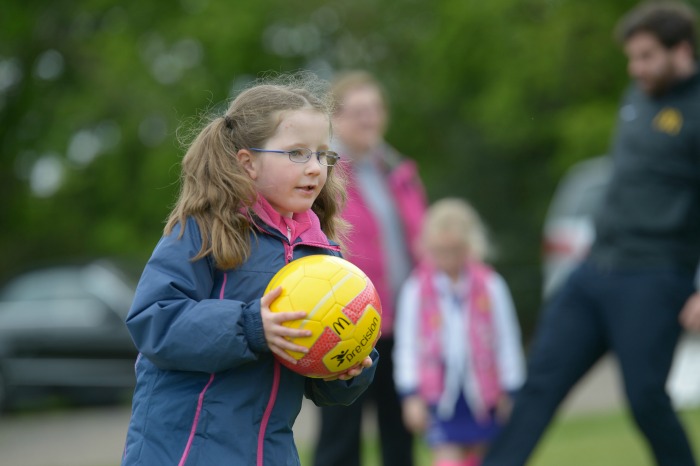 Here's a video which was produced on our morning out – look out for our blink-and-you-miss-it appearance! My interview with Casey will go live as soon as I get a chance.