Kattoo is a brilliant idea – a temporary phone number tattoo which you can stick on your child.
Kattoo tattoos are for children, and a great idea, and really simple.
You peel off the backing paper of the tattoo.
Place it on your child's skin making sure it's clean and dry.
Put a wet cloth on top to seal the tattoo onto the skin.
Peel off the backing paper.
Allow it to dry for a minute.
Write your phone number in the space provided.
That's it – how simple?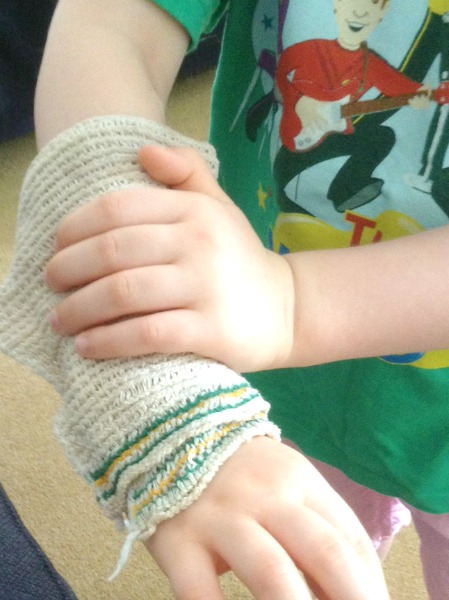 I like the idea as we often lose things, so having a band with this kind of information is handy, but you can almost guarantee we'd change our number if H had something like that- whereas with a Kattoo you're writing whatever is current.
H tried it out today and it stayed strong all day, no cracks and my handwriting was still readable.
We're going to Lollibop in just over a fortnight and will be using our other Kattoo tattoo we received in our BritMums goody bags – and I've already ordered another pack as we have some local fairs coming up in the next few weeks.

Things you need to know about Kattoo:
A pack of six costs £5.99 (the website says free UK Shipping)
They come in six different colours, with an 'if I am lost' message with a box to write your phone number
They are safe, non-toxic, FDA Certified and CE Certified. They're also latex free and cosmetically safe.
Depending on your skin type a Kattoo will last 2-5 days.
Kattoos are UV blockers, so you don't need to put sunscreen on your Kattoo area (though make sure you put it around it, obviously!)
We had a few comments today from people who spotted H's tattoo and could see what a brilliant idea it is. While I know she's the kind of child who doesn't tend to run off, there's every chance she could, so knowing there's a way for her to tell someone where her mummy and daddy are is a good thing. I would recommend these.
I received a sample pack of two Kattoo Tattoos in my BritMums goody bag.