Back in August we treated H and two of her friends to a trip to Kidzania for her birthday. We had no idea what to expect, so I'm hoping our Kidzania top tips will be useful for other first-timers.
Kidzania Top Tips.
Plan beforehand. I couldn't find a map of what was where, but asked everyone to list their top 10 places they wanted to visit within Kidzania. I then collated everything so it meant we had an idea where to aim for once there. It also meant if somewhere they liked had a short queue we could do it.
Know that the plan will change – and that's okay. In each four hour session your child is likely to do up to seven activities. H managed 9, her friends 8!
Keep an eye on queues and queue times. Sometimes it's not worth it, and sometimes you can do an activity really quickly. Kidzania give you this information for each activity so you need to have maths skills ready.
We got a 9.30am slot, getting into the main Kidzania area by 9.45. The upstairs area didn't open until 11am, and everything was really quiet at first – so things like the climbing wall had a 10 minute wait.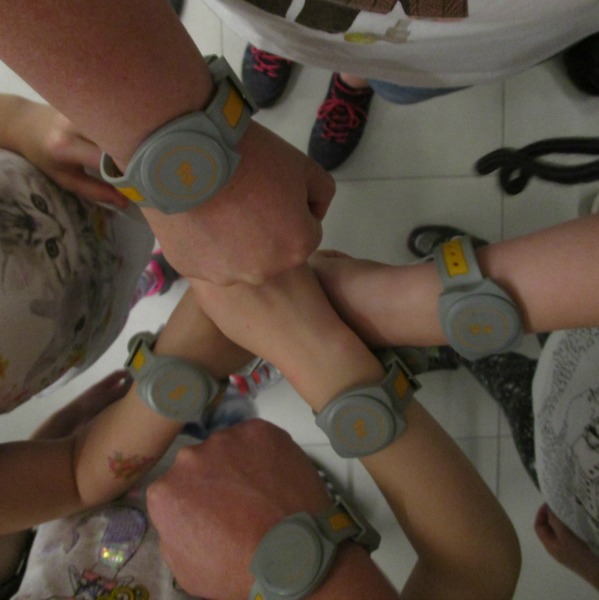 We were all given tracker watches. This means you should always know where each of you are. As you can see from the picture below, they weren't always scanned in. Fortunately we stuck together the whole day, but worth bearing in mind. The watches will still track, but you will be unable to do any activities once your four hours are up.
Adults – be prepared to stand. Not all Kidzania activities have seating arrangements nearby. Keep an eye out for chairs. Your children are safe within Kidzania (you're generally almost always behind a big glass window watching them), it becomes quite exhausting standing watching them.
There is a LOT there. You will not get everything done. You have to accept that if you do want to do more you will need to visit again. If you plan to visit a lot in a year there are annual passes.
Take snacks. Take advantage of queues and have a quick snack then – if you buy a meal within Kidzania you're using up your valuable time!
You have a four hour timeslot. It is activated from the point you enter the main Kidzania area. You can go over your four hours but your tracker watch will no longer scan so you can't do activities.
Kidzo's – this is the Kidzania currency. You spend it to do fun activities and you earn it doing other fun activities. The penny dropped pretty quickly with our 8 year olds, and they found a good balance of earning and spending, with enough Kidzo's left at the end to spend them in the Kidzania gift shop within the main area.
There's an additional Kidzania gift shop when you've left the main area and handed back your tracker watch. By the time we got there we were exhausted!
When you're 8 and you get to make chocolate, make wraps, be a vet, a midwife, a surgeon, climb a wall the size of a house, make smoothies, learn how to drum, be a fashion designer… it's a pretty awesome day. Keep an eye out for deals too as there are often several around.
These are my Kidzania top tips. Have you been? Can you think of anything else I've forgotten? Let me know!