One lasting memory H has from last year which she'll constantly go on about and howl with laughter at, is going to see Peppa Pig's Treasure Hunt live last year, when we were close enough to the front that George cried and it landed on her tights – so imagine our excitement when a new Peppa show was announced – and it starts this October! (which feels like a way off, but will be here in no time, I'm sure)
Fresh from the huge successes of previous tours Peppa Pig's Party and Peppa Pig's Treasure Hunt comes Peppa's brand new show, Peppa Pig's Big Splash. Opening at the Orchard Theatre in Dartford on 24 October, this touring production will travel throughout the UK and into Ireland until summer 2014. The tour will also include a fourth consecutive Peppa West End Christmas season (details will to be announced) and it will be the biggest ever to date.
The nursery roof is leaking and Peppa and her friends need to fix it quickly. They set up a fete to raise the money for Mr Bull to do the repairs. There's plenty of fun to be had as Peppa, George, Mummy and Daddy Pig, as well as Danny Dog, Pedro Pony and Suzy Sheep put up bunting, run stalls and organise a great day out.  There's also a Champion Puddle Jumping competition judged by Mr Potato where everyone gets wet and Peppa needs to find her Golden Boots. Another all-singing, all-dancing adventure full of songs, games and muddy puddles is guaranteed for all the family.
Peppa Pig returns live on stage with puppets and brilliant sing-a-long songs from BAFTA award-winning composer Mani Svavarsson. Richard Lewis adapts and directs this brand new show, following his previous successes with the first two Peppa Pig stage shows and the current Ben & Holly's Little Kingdom tour.
Peppa Pig's Big Splash is produced by Fiery Angel and Limelight Productions (Fiery Light), the team also behind the recent tours of LazyTown Live!, Roald Dahl's The BFG, the previous two Peppa Pig tours and the current tour of Ben and Holly's Little Kingdom.
Martin Ronan, Executive Producer, said, 'Fiery Light are delighted to be presenting their third live Peppa show in 2013-2014. Following the huge success of Peppa Pig's Party and Peppa Pig's Treasure Hunt comes the biggest tour yet for Peppa. Touring the UK & Ireland for 47 weeks, Peppa Pig's Big Splash will be a fun-packed experience for all Peppa fans. To date Peppa Live has played to almost 650,000 people and as we approach the 10th anniversary of Peppa being a family favourite, we hope the new show will thrill fans up and down the country'.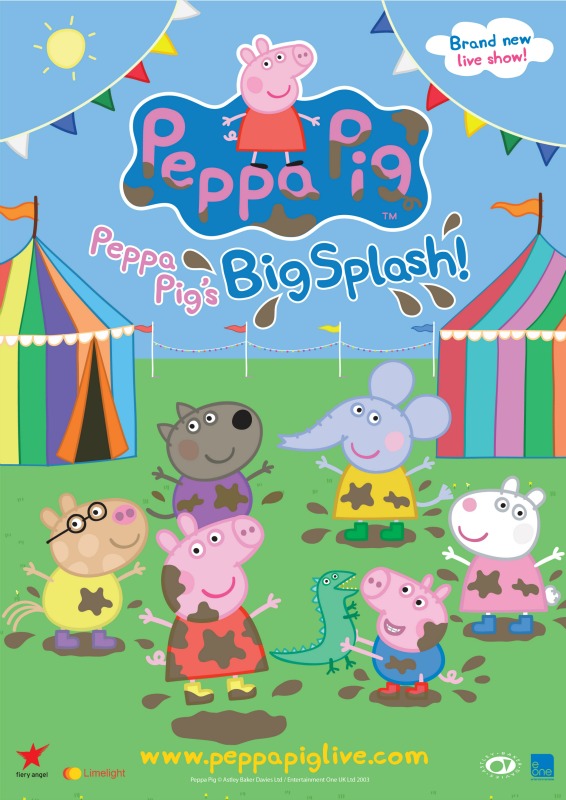 PEPPA PIG'S BIG SPLASH 
TOUR DETAILS:
THURS 24 – SUN 27 OCTOBER 2013 ORCHARD THEATRE, DARTFORD
Thurs 24 at 4 pm www.orchardtheatre.co.uk
Fri 25 at 1 & 4 pm
Sat 26 at 10 am, 1 & 4 pm
Sun 27 at 10 am & 1 pm
WED 30 – THURS 31 OCTOBER NEW THEATRE, CARDIFF
Wed 30 & Thurs 31 at 10 am, 1 & 4 pm www.newtheatrecardiff.co.uk
SAT 2 – SUN 3 NOVEMBER CONCERT HALL, CROYDON
Sat 2 at 1 & 4 pm www.fairfield.co.uk
Sun 3 at 10 am & 1 pm
TUES 5 – WED 6 NOVEMBER G LIVE, GUILDFORD
Tues 5 at 1 & 4 pm www.glive.co.uk
Wed 6 at 10 am & 1 pm
SAT 9 – SUN 10 NOVEMBER GROVE THEATRE, DUNSTABLE
Sat 9 at 1 & 4 pm www.grovetheatre.co.uk
Sun 10 at 10 am & 1 pm
TUES 12 – WED 13 NOVEMBER NEW ALEXANDRA THEATRE, BIRMINGHAM
Tues 12 at 1 & 4 pm www.atgtickets.com
Wed 13 at 10 am & 1 pm
FRI 15 – SAT 16 NOVEMBER WYCOMBE SWAN, HIGH WYCOMBE
Fri 15 at 4 pm www.wycombeswan.co.uk
Sat 16 at 10.30 am, 1 & 4 pm
WED 20 – THURS 21 NOVEMBER HEXAGON THEATRE, READING
Wed 20 at 1 & 4 pm www.readingarts.com/thehexagon
Thurs 21 at 10 am & 1 pm
SAT 23 – SUN 24 NOVEMBER GRAND THEATRE, BLACKPOOL
Sat 23 at 1 & 4 pm www.blackpoolgrand.co.uk
Sun 24 at 10 am & 1 pm
2014
SAT 18 JANUARY LIVERPOOL EMPIRE
1 & 4 pm www.atgtickets.com
WED 22 – THURS 23 JANUARY CREWE LYCEUM THEATRE
Wed 22 at 1 & 4 pm www.crewelyceum.co.uk
Thurs 23 at 10 am & 1 pm
SAT 25 – SUN 26 JANUARY NEW THEATRE, HULL
Sat 25 at 1 & 4 pm www.hullcc.gov.uk/hullnewtheatre
Sun 26 at 10 am & 1 pm
WED 29 – THURS 30 JANUARY CHARTER THEATRE, PRESTON
Wed 29 at 1 & 4 pm www.prestonguildhall.com
Thurs 30 at 10 am & 1 pm
SAT 1 – SUN 2 FEBRUARY PRINCES HALL, ALDERSHOT
Sat 1 & Sun 2 at 10 am, 1 & 4 pm www.princeshall.com
WED 5 – THURS 6 FEBRUARY THE ALBAN ARENA, ST ALBANS
Wed 5 at 1 & 4 pm www.alban-arena.co.uk
Thurs 6 at 10 am & 1 pm
SAT 8 – SUN 9 FEBRUARY ASSEMBLY HALL THEATRE, TUNBRIDGE WELLS
Sat 8 at 1 & 4 pm www.assemblyhalltheatre.co.uk
Sun 9 at 10 am & 1 pm
WED 12 – THURS 13 FEBRUARY DE MONTFORT HALL, LEICESTER
Wed 12 at 1 & 4 pm www.demontforthall.co.uk
Thurs 13 at 10 am & 1 pm
SAT 15 – SUN 16 FEBRUARY CIVIC THEATRE, DARLINGTON
Sat 15 & Sun 16 at 10 am, 1 & 4 pm www.darlington.gov.uk/arts
WED 19 – THURS 20 FEBRUARY THEATRE ROYAL BRIGHTON
Wed 19 at 1 & 4 pm www.atgtickets.com
Thurs 20 at 10 am & 1 pm
SAT 22 – SUN 23 FEBRUARY CLIFFS PAVILION, SOUTHEND
Sat 22 & Sun 23 at 10 am, 1 & 4 pm www.southendtheatres.org.uk
WED 26 – THURS 27 FEBRUARY GORDON CRAIG THEATRE, STEVENAGE
Wed 26 at 1 & 4 pm www.gordon-craig.co.uk
Thurs 27 at 10 am & 1 pm
SAT 1 – SUN 2 MARCH CORN EXCHANGE, CAMBRIDGE
Sat 1 at 1 & 4 pm www.cornex.co.uk
Sun 2 at 10 am & 1 pm
FRI 7 – SAT 8 MARCH DERNGATE, NORTHAMPTON
Fri 7 at 4 pm www.royalandderngate.co.uk
Sat 8 at 10 am, 1 & 4 pm
WED 12 – THURS 13 MARCH CORN EXCHANGE, KING'S LYNN
Wed 12 at 1 & 4 pm www.kingslynncornexchange.co.uk
Thurs 13 at 10 am & 1 pm
SAT 15 – SUN 16 MARCH HACKNEY EMPIRE
Sat 15 & Sun 16 at 10 am, 1 & 4 pm www.hackneyempire.co.uk
More tour dates to be announced