It has been a while since we've done a book review and H has had her head firmly stuck into all of my Harry Potter books! We have a new book to read and review, so here's H's opinion about Cyberhawks Versus Stormtroopers by Mark Logie.
Cyberhawks Versus Stormtroopers by Mark Logie is a cyber thriller for children age 12+. Knowing how well H does with her reading, I knew it would be okay – and it was. She really enjoyed reading the book, but don't take my word for it, this is what she had to say.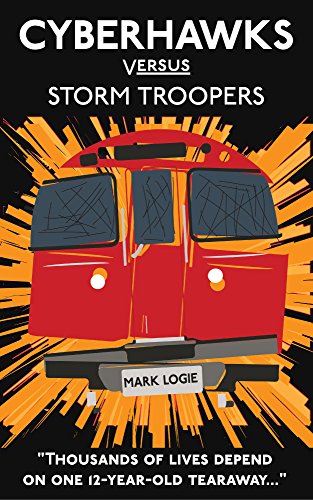 "It was a good book, my only problem is that it wasn't long enough!" she tells me. So I'm wondering what makes it a good book.
"It's an enjoyable read! The story was exciting and I couldn't put the book down". Sounds fair.
So what is the story about?
"Cyberhawks are a group of three friends, the Stormtroopers are an organisation for brain damaged children. The Cyberhawks are Ty, Kess and Corey. One day Ty receives an email written in code. Luckily he knows about computers and Ty cracks the code. He finds out that terrorists are going to attack the London Underground and it will be the worst attack the world has known."
So what do the Cyberhawks do about it and do they tell anyone?
"Nobody listened to them, so they had to do it all themselves. I'm not going to say any more as I don't want to give away the plot!"
H hopes there will be more books in the series as she really enjoyed reading it.
Cyberhawks Versus Stormtroopers by Mark Logie is available now from all good booksellers – order a copy here! (affiliate link). Mark Logie has a YouTube channel with songs that inspired the book here.
We were sent this book for the purpose of review, all opinions are our own.