A while back it was a warm-ish kind of day and sunny – perfect for getting outside. We have a few projects going on right now, one of them being to get H into a cabin bed as we've seen some good looking ones over at Noa and Nani which we're going to buy. In doing that, it frees up a bit of floor space in her room and we've needed a good solution for having friends over for sleepovers – something we haven't done for over a year as the blow-up mattress is too small for most children now. The Futon Company was the first place I thought of, as an old flatmate from around sixteen years ago had some of their zip up mattresses which convert into cushions – perfect for a child who occasionally likes her own space and sits and reads upstairs – so we headed to the Kingston branch. They were in the sale, so I was pleased I paid just £49.
After that we headed to Ham House & Gardens as it's a short drive north from Kingston, and somewhere we haven't visited for far too long. I sniggered on seeing the 'Warning – this car park floods' sign as the main car park is right next to the Thames, and it would be just our luck.
Ham House is a short walk from the car park, and you get a real feel for how it was when it was lived in as you walk up the main driveway towards it. Our first port of call was the Orangery cafe which has recently been done up – a quick baked potato (for just £5) and we were set for a wander around the grounds. Part of the gardens were blocked off to allow the grass to grow, but there were still plenty of snowdrops and daffodils in bloom which always makes me happy.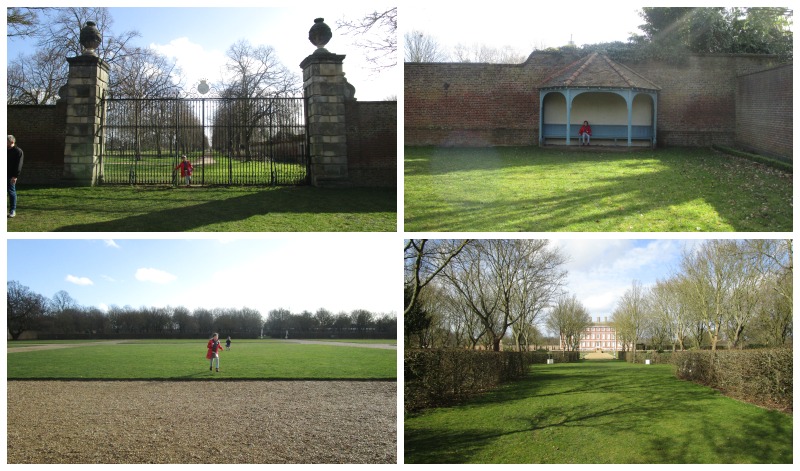 H and Shaun had a run around the grounds while I sat and relaxed, enjoying the sun on my face. After that we headed inside the house to the Below Stairs Rooms which have plenty to see and do, and is where the servants lived and worked. It also had a big room with crafty things for kids to do, and of course, dressing up. It was great for getting a feel of what it was like when people lived there 300 years ago. H enjoyed making frames for a picture she had coloured in.
In the Beer Cellar there was tasting for adults, so Shaun and I had to try. The beer was good, not at all fizzy and how it would have been 300 years ago – even children drank it then (but that's before they realised you could boil water and it'd be fine to drink) – but not this time!
After Ham House I decided I'd quite like to visit a place from my past, somewhere I haven't visited for almost seven years – Teddington. Given how close we were and how H had never seen a fully working lock, it made sense. Unfortunately no boats were passing through, but she still got the idea. We walked into the central area between the two main locks, then over the Teddington Bridge, popping into the Anglers Arms for some food – except we were ignored so we eventually left and headed back over the bridge. Teddington Lock hasn't changed much – my great aunt and uncle lived in Teddington and many a childhood would be spent going for walks down to the lock, walking past the old Thames TV Studios (we saw Rod, Jane and Freddy from Rainbow once at Teddington Station – very exciting).
Our trip was about fresh air, rediscovering old haunts and introducing H to them – or in the case of Ham House reintroducing, as the three times we've been she's been a tiny baby!
As National Trust members, Ham House doesn't cost us anything, Teddington Lock is also free. We're linking in to Country Kids again this week!