The FA has launched a new campaign, We Can Play.
We can play is a new campaign from The FA.
When you're in my vicinity and share living space with me, there isn't a lot of choice – football is a part of it.
When Shaun first came to the UK we saw York City play – vs Hull City. He adopted Hull of course. We allowed him to change his team just the once, as long as it was Tottenham, which he duly, eventually did.
So, when H was born football was going to be her game. When she was a baby she watched games with me. She had no idea what was going on, but has grown up with it from birth. I was on maternity leave for the 2010 World Cup – talk about good timing! As soon as she could speak, the names Luka Modric, Gareth Bale and Harry Redknapp were taught. She even made a Gareth Bale out of Hama Beads. Harry Kane is her hero at the moment, and rightly so.
Once she turned four I took her for lessons with Crystal Palace which started out well but didn't end as well as I'd hoped. She enjoyed playing, and that was all that mattered to me. But when she stopped enjoying it, tearfully asking if she could stop, we had a break. Her friends had all gone to different clubs and it wasn't the same.
All this time I'd been looking out for England Women games to go to, having missed one in Brighton by a matter of hours – so when they got to play at Wembley vs Germany, I booked us tickets – at last! Except on the morning of the game H was sick – properly sick. We couldn't go as she was too unwell so caught it on television instead.
Fast forward to May of this year, and H had a training session with Casey Stoney, the former England captain – and she got back her love of playing the game. I asked around for clubs to play at, and found our local Carshalton Athletic – who are brilliant. Other girls go, the coach wants to set up a girls' team, and things are progressing in a really positive way. Girls go free to encourage them to join in – one week we had seven girls; enough for a team!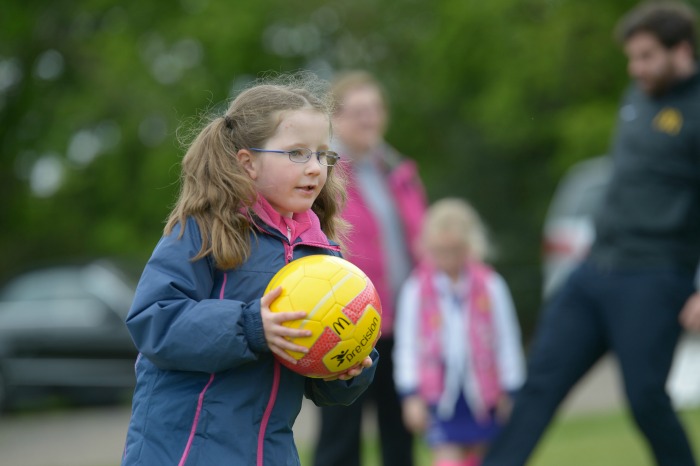 We've gone almost every week and H loves it. Her friends all come along too – all girls. They really fight back at the boys to get the ball and aren't fazed by it. They're happy when they score goals and not happy when they lose. They take it all incredibly seriously, and it's great to see. H plays because she wants to play, not because she has to. It's different.
This weekend we're going to the Women's FA Cup Final at Wembley – we bought tickets way back when we spotted the game on the big screens outside the ground (on the way to Wembley Arena for Disney On Ice), catching the last days of Early Bird prices – so that's £23 for the three of us. Notts County v Chelsea – and we're going as neutrals as we still haven't chosen a Women's team to support.
The Women's World Cup has made such an impression on H. Of course girls can do it too, but when you're five you need to see it, and that's what the World Cup did. The fact we came third and have players H remembers means that she wants to name her new Build a Bear, Fran Kirby! It could have so easily been a Frozen character. Football and Frozen are on the same level for my daughter now.
It makes me sad to see some of the England squad have full time jobs, but I love where it is coming from. It's people playing football because they want to, not in it for the money, but that's just what they do. If only the men's game had more players like Harry Kane. He has a fantastic attitude and is a great role model with no scandals to speak of.
Things are changing with the women's game. H is part of a new generation of girls who will have it easier playing football, because people like Casey Stoney fought to play games back when she was young.
It's normal. It's going to get better. This is why we support the #WeCanPlay FA Campaign. You can sign up to receive a newsletter and there's also a handy link to find your local club.