I'm enjoying posting photos with a bit of blurb. I realise this is quite different to everything Mum Friendly has been, maybe this is where it's moving forwards to? We'll see. Anyway, here's some more pictures from Australia last July and August, 2022.
Hungry Jack's. Ahhh our favourite drive thru/takeaway in Australia (Although Shaun would probably add Chicken Shack to that as well) – we arrived in Perth and stopped here to grab food and milkshakes because we needed some sugary bad food to make us feel normal again after a day travelling from the UK eating airline food. The picture is blurry, annoyingly. But it's clear enough to see, and here's why Hungry Jack's isn't called Burger King. They serve the same food.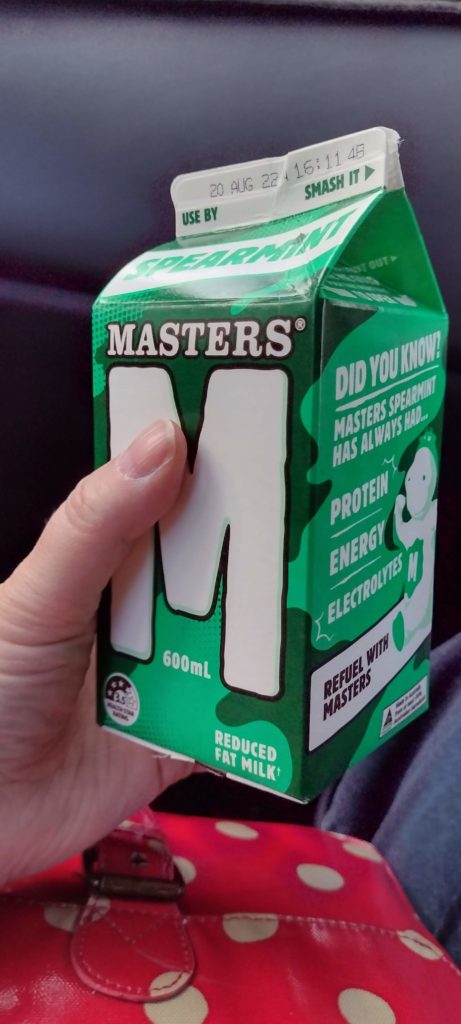 "Uuuuurrghgg" say most people when greeted with this sight. But oh, how wrong they are. I get it though, I mean, the idea of a minty green milk ("It probably tastes like mouthwash") which you drink and exists for FUN (rather than anything else significant) must be confusing. I'll dig out a photo of the Western Australia milk aisle that I took from a few years ago – they have a very impressive selection and all the flavours. For now, let's focus on Spearmint Milk. Surely one of the greatest inventions of all time? It's tasty, minty, green and most significantly, different. I like to be different.
Finally – no food or drink on this one. Just H, her shadow and a shelter we passed by at Mundaring Weir. I was tired so H and I stuck together and did the shortest trail. I spotted this shelter and insisted she struck a striking pose which would create an interesting photo and this was the result. So it's kind of staged but sort of real too, if that makes sense?
Mundaring Weir is interesting – a huge reservoir which transports water around the area (there are loads of gold pipes leading from the reservoir). You can walk across the dam walkway (H and her nana did, it was too much for me) and there are numerous trails around the area. When the water levels are low you can see a train track as well which I need to do some research on. I'm already having Ladybower Reservoir style "entire village appears when the water levels got really low" sort of feelings.
But that's just my odd little head. The area around Mundaring Weir always has kangaroos (always!) and other interesting animals – and is always good for a wander. The Mundaring Weir Hotel is just up the road and has a decent selection of beers and food to try – we've often enjoyed eating then sitting in the arena-type area afterwards. We also got trapped there one year when there was a rally going on and we couldn't cross the road to leave – which was fine, we just had more sunshine, beer and food instead.
I'm building up to a few reviews which will hopefully come very soon…. my head feels like it's ready to have a good rant!