We saw Peppa Pig's Treasure Hunt back in April when it got to Croydon at Fairfield Halls on the UK tour – and it was a hugely enjoyable afternoon (complete with several merch stands so it was unavoidable – not too pricey though thank goodness!) – a really nice simple plot with plenty of songs and fun. Actually, I didn't realise just how much the songs had stayed in my head until we saw Ben & Holly Live recently and I recognised them being played beforehand…
Well after a long tour of the country, Peppa Pig's Treasure Hunt is heading to the West End for its third West End Christmas Season to the Criterion Theatre from the 6th December 2012 until 6th January 2013.
Peppa Pig's second live stage production proved to be a huge success on its travels the length and breadth of the UK and Ireland in 2011 – 2012, with sell-out performances wherever it went.
The Peppa Pig stage-show has a very successful track record at the Criterion Theatre, where for the past two Christmas seasons Peppa Pig has played to packed houses (2010 and 2011), breaking all the theatre's previous advance box office records. Her first stage tour, Peppa Pig's Party, was also one of the top-selling children's theatre shows in 2010 and 2011.
In Peppa Pig's Treasure Hunt, Peppa Pig and her friends set off on a new adventure, a treasure hunt. Peppa, her brother George and friend Danny Dog get up to fun and games on a day out on Granddad Dog's boat. There are clues aplenty as Pedro Pony, Polly Parrot and Zoe Zebra help them find their treasure as they all enjoy a day of adventure. Peppa Pig's Treasure Hunt features true-to-life puppets, sing-along songs and a story that will charm and delight all her fans.
The cast is Nick Errington, Kerry Gooderson, Chris Hughes, Charlotte King, Kimberley Penna, David Sandham and Charlotte Sullivan. The composer is Mani Svavarsson, the designer is Simon Scullion, lighting is by Matt Haskins and sound by Ian Horrocks Taylor.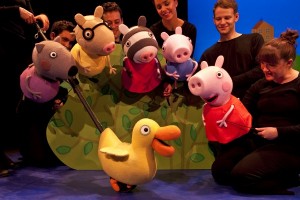 PEPPA PIG'S TREASURE HUNT – CRITERION THEATRE LISTINGS
THURSDAY 6 DECEMBER 2012 – SUNDAY 6 JANUARY 2013
Criterion Theatre, 218 – 223 Piccadilly, Piccadilly Circus, LONDON SW1
Box Office: 0844 847 1778
Thurs 6 – Sun 9 December
Thurs 6 & Fri 7 at 11 am & 2.30 pm
Sat 8 at 11 am
Sun 9 at 12 noon & 3 pm
Mon 10 – Sun 16 December
No performances on Monday 10 & Wed 12
Tues 11, Thurs 13 & Fri 14 at 11 am & 2.30 pm
Sat 15 at 11 am
Sun 16 at 12 noon & 3 pm continued/
Mon 17 – Sun 23 December
No performances on Mon 17 & Wed 19
Tues 18, Thurs 20 & Fri 21 at 11 am & 2.30 pm
Sat 22 at 11 am
Sun 23 at 12 noon & 3 pm
Mon 24 – Sun 30 December
Mon 24 at 11 am
No performances on Tues 25 & Wed 26
Thurs 27 & Fri 28 at 11 am & 2.30 pm
Sat 29 at 11 am
Sun 30 at 12 noon & 3 pm
Mon 31 December – Sun 6 January
Mon 31 at 11 am & 2.30 pm
Tues 1, Thurs 3 & Fri 4 at 11 am & 2.30 pm
No performance on Wed 2
Sat 5 at 11 am
Sun 6 at 12 noon & 3 pm