We were approached to try some Bioglan Smartkids vitamins. H has had a few issues recently, so I figured it was a win-win situation and we put them to the test!
Bioglan Smartkids vitamins are a new brand to me – and indeed, they're quite newly launched in this country.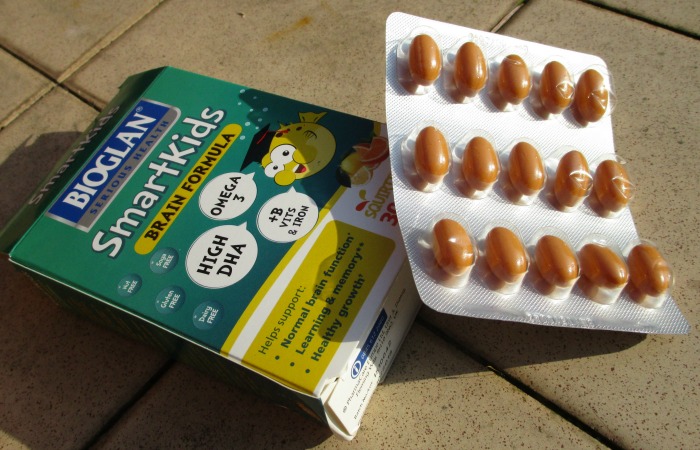 We were sent the Smartkids Brain Formula – which helps support normal brain function, learning and memory, and healthy growh – and are 30 citrus flavoured chewable squirts. They have a high DHA, Omega 3, six B vitamins and iron too. Unfortunately H hated the taste – and Shaun tried one and said it felt like fish oil with flavour – so this wasn't really for us. I didn't try it being vegetarian!
We were also sent Smartkids Fussy Eaters Multi vitamins, which include fruit and veggies as well as multi vitamins. They help maintain healthy growth, immune function and healthy bones – and I'm pleased to say these ones went down much better – in fact, she was asking for a second one! The vitamins in these Bioglan Smartkids vitamins are sourced from sixteen types of fruit, vegetable and herbs, which is good to know. They're also blackcurrant and strawberry flavour.
The Brain Formula tablets come in a crunchable tablet which the liquid comes out of when crunched, whereas the Fussy Eaters Multi are a more straightforward tablet.
Has it made a difference? We've had a rough month and a bit with H, where she's seemed to pick up lots of little things making her quite run down. I've since found out she has two molars (the 6-7 year ones) plus one of her front teeth is ready to cut through the gum – so I'm wondering if that has lowered her immunity. Nevertheless, when she started to take the Fussy Eaters tablets, she definitely started to be on the right side of being well.
Both packs of Bioglan Smartkids Vitamins can be ordered direct, and sell for £9.99 a packet – within each packet you get 30 tablets. The Brain Formula tablets are here, and the Fussy Eaters ones are here.
We were sent a pack of each for the purpose of review, all opinions are our own.