Weetabix Cake is really simple to make, and we decided it was about time we involved her in the kitchen a bit more.
Weetabix cake isn't something you'd think of when thinking about cake, but H made this at nursery the other day and after chatting to her key workers about how it's made we decided to give it a go. They use butter where we used sugar, so it's very adaptable. I'm thinking about adding bananas next time.
Get your pinny on… (hmm, could that be the theme for all my random cookery things?)
Get two Weetabix. Crush them in a bowl.
Add a cup of raisins
Add a cup of sugar (this does seem a lot)
Add a teaspoon of mixed spice (we used cinnamon, nutmeg and ground ginger)
Mix the dry mixture together well
Add a cup of milk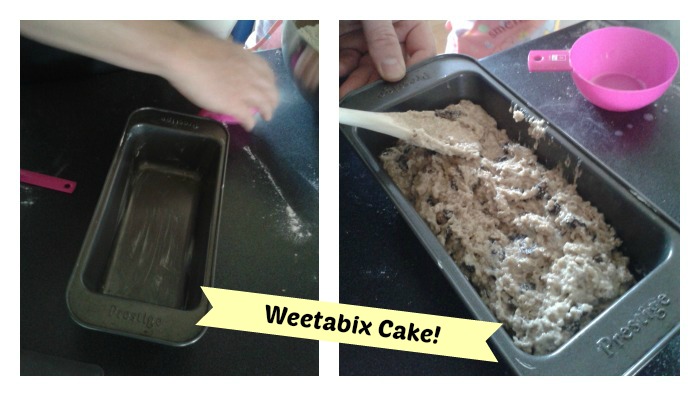 Mix into a dough. Splodge into a pre-greased tin and put in the oven at 160-170°c/325°f/Gas Mark 3 for 45 minutes. The Weetabix cake tastes yummy – I think next time we'll use less sugar and more spice, but it was lovely and crispy on the outside and chewy on the inside – and you'd never know that it was made with Weetabix… I'm now pondering whether we try using a Weetabix cake for H's birthday cake this year… hmmm!
with thanks to most of the internet for all your various recipes which we adapted slightly!